Exothermic Welding Accessories
1) Mould Handle Clamp (Universal):
For most connections involving lugs, cable or rectangular bus, exothermic handle clamps are used. These will fit 90% of all standard exothermic molds. Normally we recommend One Handle for every two mouldsThese are manufactured by the professionals using high quality raw material. These Mold Handle Clamp conform their adherence with the industry standards.
2) Graphite Mould for having Exothermic Welding:
Exothermic Welding Graphite Mould When making a copper wire connection of Ground rod or other metal connection, place the Welding powder into the graphite mould. Just ignite to start the Welding process. The result will be clean and smooth connection surface. It is also applicable for other metal such as: Iron, Galvanized Steel, Railway track, Cast Iron, Bronze, and Brass. It can be used in various applications to have the certainly good connections in work. Such as Lightning and Surge Protection, Grounding in Electrical Work, Railway Construction, Cathodic Protection. The connection mould is designed to last for an average of 60 to 100 connections. This will vary according to the care given the mould during use.Graphite mould is made of high quality graphite suitable for high quality Welding work and can be used for several times.
3) Steel Metal Disk:
Steel discs are very important. The disc acts timing device to allow the Exothermic Welding powder to heat to proper temperature. Steel Disk is designed to contain the exothermic reaction to the upper crucible of a mold until the reaction is complete and ready to Welding. One Metal is must for every shot.
4) Exothermic Welding Powder:
Exothermic Welding Powder is the most reliable and consistently-performing Welding metal available with us. Quality validation steps are taken for every lot we produce. Upon final acceptance, our Welding metal is specially packaged in moisture-resistant plastic cartridges with special closure caps. Then the cartridges and required metal discs are packaged in moisture-resistant boxes. Our standard packing for Exothermic Welding powder is the following - 1 - Moisture Free Packing in Foil 2 - Firstly Exothermic Welding powder is in the tube and starting powder / Ignite Powder is in tube at the bottom of Exothermic Welding powder as shown in diagram All sizes of Welding metal are available. Standards Size Packing available are – 50 Grams, 100 Grams, 125 Grams, 150 Grams, 200 Grams, 250 Grams, 1 Kilogram.
5) Brush (Soft and Hard):
Two Brush Required: 1) Soft Brush – Its used to Clean Mould Welding Cavity because its shape is very sensitive and there should not be any damage while using Brush, so we recommend to use Soft 2) Hard Brush – Its used to clean other section of Mould We recommend a Pair of Brush for 50 Connection .
6) Flame Torch:
Graphite absorbs moisture from weather. So there is a need for propane torch to dry out the inside of the mould thoroughly on both sides, therefore heating the mold to approximately 250 degrees Fahrenheit We recommend using one Flame torch for Every 200 Joint and than use the refiling.
7) Slag Removal Tool:
It is used to remove the metal Scrap from Mould after the Welding Process is done. We recommend One Slag Tool for Every 200 Joints
8) File Card:
It is used to clean the objects to be Welding. We recommend One Slag Tool for Every 100 Joints.
9) Hand Gloves:
Gloves is required for safety purpose as the Exothermic Welding Powder melts at more than1400 degree Celcius. We recommend a Pair of Gloves for Every 150 Joints
10) Flint Gun:
It is designed with the advantages of safety and convenience. It is used to ignite Starting Powder in order to result in exothermic reaction. We recommend one Flint Gun for every 100 Shots.
11) Sealing Compound:
Sealing Compound is used to fill the gap on the mould where the conductor is passing We recommend 1 Kg Sealing Compound for Every 100 Joints.
12) Ignite Powder (Starting Powder):
Ignite Powder is also known as Starting Powder and is required and is must. Sprinkle little Starting Powder on theMould followed by the Exothermic Welding powder and again sprinkle it little on the Top Side of Mould. Than Ignite starting powder with a spark gun. This results in exothermic reaction and the Welding powder melts to molten copper alloy. The molten copper alloy melts the retaining disc and flows into the Welding cavity where it partially melts the conductors. Ignite Powder of 2-4 grams is sufficient for this Process.
---
Learn how Exothermic Welding is done in below Video
---
How Exothermic Welding Works ?
The Exothermic weld System is a welding process that utilizes an exothermic reaction (a chemical reaction that releases energy in the form of very high temperatures and light) to permanently joins metal connections. Exothermic weld uses a light-weight, clamp-on graphite mold to safely position and contains any weld required. The exothermic reaction creates an intense miniature furnace with temperatures exceeding 2,500 °F, instantly producing molten metal which flows into the weld cavity, filling any available space. After waiting adequate time after the initial process, the mold can be released and the finished connection removed.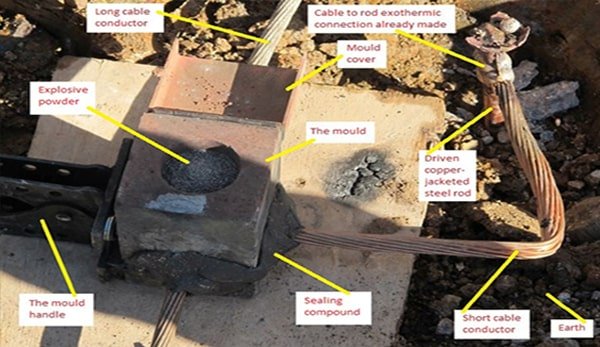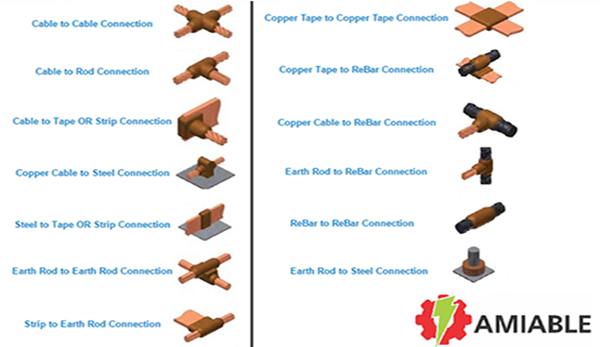 ---
When Exothermic Welding is require ?
When there is an improper connections between conductors which are often the reason for electrical malfunctions. A proper connection should have the following characteristics:
1. Capacity to withstand overload conditions without melting, burning or failing.
2. Sustain electrical continuity and contact reliability.
3. Connector temperature should remain lower than that of the conductor when conducting electrical current.
4. Extensive service life. Will not deteriorate, corrode or decay over time, above or below-grade.
Only exothermic weld connections meet or exceed all of the above criteria. Exothermic weld is recommended by IEEE and IEC. It has been shown to be the best choice where safety, reliability, longevity and current carrying capacity are critical. Exothermic weld specifically supersedes its competition with its hermetically sealed metallized pouch which provides the product with an extensive shelf life and easy portability. Our AmiableWeld Exothermic Welding Powder is ISO Certified, CE and ROHS Compliance and IEEE Tested and Passed and is the preferred method for making copper-to-copper and copper-to-steel electrical connections.
---
Exothermic Weld Process :
The process of Exothermic Welding is a method of making electrical connections of copper to copper or copper to steel in which no outside source of heat or power is required. In this process, a special Welding material is placed into a high temperature resistant mold and ignited.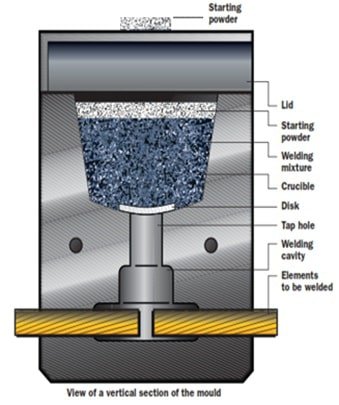 The process of igniting the particles creates extremely high heat and molten metal (exothermic reaction) up to 2000 degree Celsius, and produces a molten metal slag. This liquid copper metal flows into the Welding cavity, filling any available space and completes the Welding. The Welding is then allowed to cool and solidify before it is removed from the mold. The mold is ready for the next Welding after a brief cleaning with a brush. This entire process takes only seconds to complete.
Exothermic Welding connections produce a permanent connection, superior in performance to any known mechanical or pressure type surface-to-surface contact connector. Because the connection produced is a molecular bond, an exothermic Welding connection will not loosen or increase in resistance over the lifetime of the installation.
The Exothermic Welding System is a welding process that utilizes an exothermic reaction to permanently join metal connections. Exothermic Welding uses a light-weight, clamp-on graphite mold to safely position and contains any weld required. The exothermic reaction creates an intense miniature furnace with temperatures exceeding 2,500 °F, instantly producing molten metal which flows into the weld cavity, filling any available space. After waiting adequate time after the initial process, the mold can be released and the finished connection removed.
---
Advantages of using Exothermic Welding:
1. It guarantees the most common connections not only between copper cables but also for Welding tapes and metallic pieces made of brass, stainless steel, and copper coated steel earth rods. Current carrying (fusing) capacity equal to or greater than the conductor.
2. It offers a permanent Welding and a low resistance connection, essential for achieving longwearing and trustworthy results in earthing.
3. It does not corrode oxide or degrade with time and is resistant to galvanic coupling.
4. It has higher mechanical and squeezing resistance than the conductors themselves.
5. It has a superior electrical conductivity than the conductors themselves.
6. Permanent molecular bond that will not loosen or corrode.
7. It is able to withstand repeated electrical discharges.
8. No external power or heat required.
9. Can be checked visually for quality.
10. It never increases its resistance.
11. Will withstand repeated faults.
12. Will not deteriorate with age.
13. No special skills required.
14. Easily transportable.
15. Low labor costs.
Exothermic weld system from AmiableWeld provides precision engineered molds for optimal results which gives about 30 to 100 Joints from one Graphite Mold. Features include simplicity, corrosion resistance, extended shelf life, high conductivity, portability, ease of use, and it requires no external heat or power source.
---
Why Use Exothermic Weld ?
The Exothermic Weld Connecting created a permanent, homogeneous, and molecular bond that cannot loosen or corrode, and will carry more current that the conductor.
The Exothermic Weld Connection are solid molecular bonds, they do not loosen or corrode over the lifetime of connection. The ame cannot be said about other methods; such as brazing, crimp, split bolt, or compreion type connections.
---
Advantages and Disadvantages of Exothermic Weld:
Compared for some other forms of welding, exothermic bonds employ a greater mechanical toughness. The weld can be proof against corrosion. You simply won't notice an increase in electrical excess weight despite repeated small signal pulses; your weld is highly firm. The procedure is more costly, however. The task requires replaceable moulds, is not easily repeatable.
Exothermic weld may also be done far from others. That reduces dangers to employees. A igniter is used with widespread graphite molds or a palatable made drop within weld metal ink cartridge, semi-permanent graphite crucible pattern, and an ignition company that connects your container with a cord. Exothermic weld is usually used for welding copper conductors but is suitable for welding a wide range of metals, including stainless steel, cast iron, common steel, brass, bronze, and Monel. It is especially useful for joining dissimilar metals.
An exothermic weld has higher mechanical strength than other forms of weld, and excellent corrosion resistance It is also highly stable when subject to repeated short-circuit pulses, and does not suffer from increased electrical resistance over the lifetime of the installation. However, the process is costly relative to other welding processes, requires a supply of replaceable moulds, suffers from a lack of repeatability, and can be impeded by wet conditions or bad weather.
---